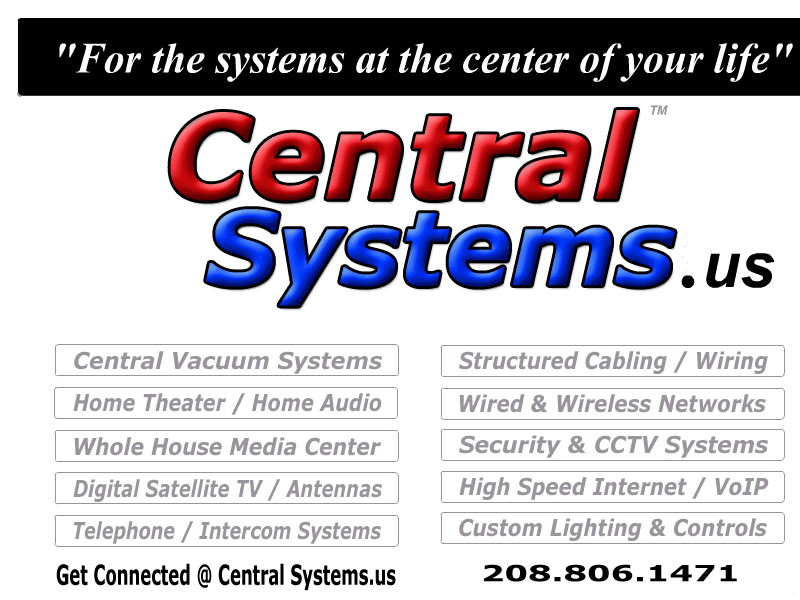 Is your Home Ready for the Future? <-Click Here to find out.
Is your home roughed in or plumbed for a Central Vacuum System?
Is your home pre-wired for audio video, home theater, security?
What will you use for internet, telephone, VoIP, and TV?
Are you ready for the future?
For all of your Central Systems needs.....
.
Providing proven quality products & service in the Treasure Valley for Thiry years.
.
Check out our systems, then email or give us a call.
Central Systems
Boise Meridian Eagle Nampa Caldwell Kuna Emmett McCall Donnelly Sun Valley Idaho
(208) 806-1471 or (208) 713-5239
Central Vacuum System Service & Repair Boise Meridian Eagle Nampa Caldwell Kuna Emmett Donnelly McCall Idaho
©2013 CentralSystems.us - All rights reserved
www.idahocentralvacuum.com www.idahocentralvacuums.com http://www.centralvacuumsystemsinidaho.com/
High Speed Wireless Broadband Internet Access Boise Meridian Nampa Eagle Caldwell Kuna Middleton Star Emmett & Mountain Home Idaho
idaho central vacuum systems central vacuum system service and repair accessories power brushes electric hoses etc
idaho central vacuum systems boise meridian eagle middleton star kuna mccall sun valley idaho service replacement & repair
Central Vacuum Systems, Central Vacuum Systems Accessories, Boise Eagle Meridian Nampa McCall Sun Valley Twin Falls Idaho
Central Vacuum System Power Brush, Hose & Tool Sets Boise Meridian McCall Sun Valley Eagle Kuna Mountain Home Idaho
Central Audio Video Systems, Whole House Media Center, Wired & Wireless Networks, Boise Meridian Eagle Star Middleton McCall Sun Valley Idaho
Central Security Systems, Security Monitoring, CCTV, Camera Systems Eagle Meridian McCall Sun Valley Twin Falls Boise Idaho